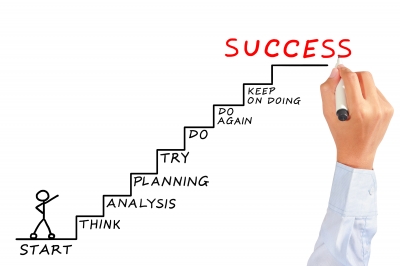 Quotes to Inspire Success in Your Life and Business
Life can be a beautiful journey, a crazy ride, a big adventure.
But it can also be a living nightmare, a constant struggle, a hard teacher.It's all up to you.
Life isn't about finding yourself. Life is about creating yourself.
If you want your life to be a magnificent story, then begin by realizing that you are the author and everyday you have the opportunity to write a new page.
I am not just here to Make a Living; I am here to Make a Life.
Successful People tend to become More Successful because they are Always Thinking about their Successes.
To be a Leader, you must Stand for Something, or you will Fall for Anything.
Great Works are Performed not by Strength, but Perseverance.
The Fastest Way to Pass your Own Expectations is to add Passion to your Labor.
Your Ideas are like Diamonds.. .without the Refining Process, they are just a Dirty rock, but by cutting away the Impurities, they become Priceless.
Society may Predict, but only I can Determine my Destiny.
Success is More Attitude than Aptitude.
Our Mind is the Valuable Possession that we have. The Quality of Our Live is, and Will be, a Reflection of how well we develop, Train, and Utilize this Precious Gift.
People with Goals Succeed because they know where they are Going.
When everything Feels like an Uphill Struggle, just Think of the View from the Top.
Excellence is not being the Best; it is doing your Best.
The Size of your Success depends on the Depth of your Desire.
In Every Problem there is a Hidden Treasure Inside. It's Your Job to Find it.
Anyone who has never made a mistake has never tried anything new.
God Created all Men Equal. Why do Some Accomplish far Greater Accomplishments then Others? Because they had a Vision, a Desire, and they took Action.
The Achievement of one Goal should be the Starting point of Another.
Money Never starts an Idea; it's the Idea that Starts the Money.
Success is how High you Bounce when you hit Bottom.
I would rather Fail in a Cause that Would Ultimately Succeed, than Succeed in a Cause that would Ultimately Fail.
The starting point of all achievement is desire. Keep this constantly in mind. Weak desire brings weak results, just as a small amount of fire makes a small amount of heat.
It is the mind that makes good or ill. That which makes us happy or sad; rich or poor.
Think BIG! You are going to be thinking anyway, so think BIG!.
The day I stop giving is the day I stop receiving. The day I stop learning is the day I stop growing.
The happiest of people do not necessarily have the best of everything. They just make the most of everything that comes along their way.
I am not judged by the number of times I fail, but the number of times I succeed, and the number of times I succeed is a direct proportion to the number of times I fail and keep trying.
People of mediocre ability sometimes achieve outstanding success because they don't know when to quit. Most men succeed because they are determined to.
I can't believe that God put us on this earth just to be ordinary.
Always keep a window open in your mind for new ideas.
I am a great believer in luck, and I find that the harder I work the more luck I have.
Through perseverance, many people win success out of what seemed destined to be certain failure.
Reach for the moon. If you fall short at least you'll be among the stars. If you can't do it today, what makes you think you can do it tomorrow.
Success is not where you are in life, but the obstacles you have overcome.
Life is an adventure! Live it while you can. You can never have today again, tomorrow only comes once, and yesterday is gone forever. Make your choice wisely, then live the adventure you create.
Action may not bring happiness, but there is no happiness without action.
If you realized how powerful your thoughts are, you would never think another negative thought.
There are essentially two things that will make us wiser: the books we read and the people we meet.
If you Consistently and Persistently do the things that other successful people do, nothing in the world can stop you from being a big success also.
READ MORE ::